Reykjavík, Day 11
Starting off late at this Italian (or Italian-insipired) restaurant Eldsmiðjan, and there came the pizza baked in stone oven. The food was good, but the only orange juice they had was a 20ml paper box with a straw, which isn't really what I expect from a restaurant.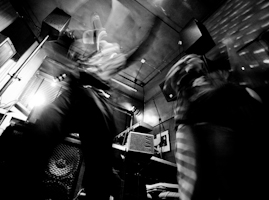 I walked down to Grái kötturinn once more,and met a lady painting the window fences. She told me she (Hulda) and her husband (Jón Óskar) had rented the place out to their staff the last two years, but was now taking over again, opening Monday 07:00. Grái kötturinn is just a side projectof theirs, their main business is next door where they run 101 gallery. Lots of things in central Reykjavík is named 101 something, even the movie 101 Reykjavík. This is taken from the postal code of the Reykjavík city centre, or Miðbær, so I guess the naming 101 something is to underline it's central.
Last night, there was a concert at Prikið, starting off with a guy from XXX Rottweiler. There were two rappers and it was quite good. I tried to take some pictures but very low light and a rapper not really standing still is no good combination.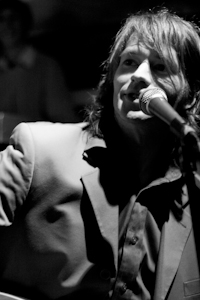 This was taken at ISO 3200, pushing the old EOS 20D far too long with the EF 10-22 at 10mm f/3,5 at 1/3 second, and this is one of the better ones. After the dogs were done, Helgi Valur and band stepped on stage. See the (external) web gallery for some pics. The pictures are all licensed under a Creative Commons license.
Back at Prikið, I met Helgi and his band and got some nice feedback for my pictures. He seemed positively surprised by the choice of license, asking me if I knew about Copyleft, and I assured him I did. We talked a little and they left to join to some TV show (as guests) later tonight. I forgot to ask which channel that was, but I watch TV every leap year or so, and my Icelandic isn't much better than it was yesterday, so I doubt I'd bet much out of it anyway.
There's another rather big difference between Reykjavík and perhaps the whole of Iceland as compared to Oslo/Norway. At cafés, there seems to be CCTVs everywhere, even small takeaways, perhaps excluding the toilets. Whether this is due to state regulations or just lack of laws of privacy, I don't know. Now, surveillance increasing in Norway as well [1] [2], but mostly those are illegal ones. Surveillance in the scale of what's being done here can't be possible if it were illegal. Perhaps Eva Joly and her economic crime team could have had an easier job if if there were audio-enabled CCTVs installed in Alþingishúsið, but obviously that's not how things work.
The weather forecast from yr.no is mostly wrong. They have been reporting rain for almost a week, and we've hardly had a drop. The temperature has dropped a little (8-9˚C now), but that doesn't stop cafés and restaurants to leave their doors open. It's obvious Icelanders are more used to this chill than I am (and I am Norwegian for all that takes, perhaps except for the classic blue eyes, the blond hair and the hateful look towards non-white people).
Today the Reykjavík dance festival started and tomorrow is a theatre setup, walking through town (actually it was one today as well that started 17:00, but I missed that). I guess a short trip to Kolaportið tomorrow after breakfast and then to this theatre, starting off at Laugavegi 22 (at the corner of Klapparstígur) and walking through town. After that, just relax and perhaps try to see if Prikið is showing tomorrow's football match between Iceland and Norway. It'd be great if Iceland wan this, but I think I'll need somewhere to hide if they do. Shouting ÁFRAM ÍSLAND around a bunch of drunk Norwegians.
roy