Rekjavík, day 13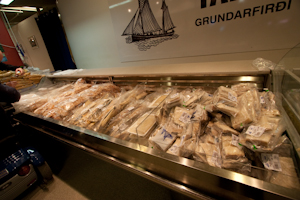 Day 13, happy 13, will be the last full day on this trip. Tomorrow will just be wake-up-and-shower-and-get-to-the-airport-and-home. Starting slowly today, walking down to Kolaportið to get some harðfiskur for my dad and sister (they, too, love this).
Yesterday night was eventful for all of the town's football fans, and quite a few Norwegians that came over. Now, I'm not much into football anymore, but wen I was a kid, my home town, Kongsvinger had a decent football team, so sneaking the into the matches (by the river-side) was part of my youth. (Incidentally, the team seems to be a able to get to the Norwegian elite division this year after spending the last decade in lower divisions, if they don't mess up, that is, which they have surely done earlier). The Norwegians were certain of winning the match easily, and the match started with Norway scoring after 10 minutes with Iceland scoring 18 minutes later. After this, things happened quickly and Iceland was definitely the better of the two. The match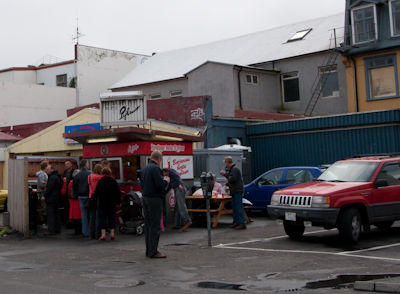 I eventually found the wine I mentioned yesterday at Rikið, but I won't be able to get there in time, and the tax-free shop at Keflavík most certainly won't have that sort of wine. If I'm lucky, they might have one of the other from Casa Lapostolle (and the people that designed vinbudin.is should consider another profession).
Last night I met this geologist, Stephen Kangogo from Kenya, working here in some exchange programme, researching drilling for heat in volcanic areas (that's how they heat up stuff here). There aren't many black people up here, so the few of them stand out a bit. He refused to sit outside, having a beer (no smoking inside)because of the cold (wearing twice as many layers of clothes as I was). Later, I met this couple (Ásta og Baldur) and I learned that downtown somewhere (I haven't found out), there's a complex of luxurious apartments down by the docks, furnished with furniture matching the interior and with large, fancy LCD or plasma TVs preinstalled. This reminds me of the cruise ship The World, built some years back. I was working on that boat for some days, installing some Video-on-demand equipment. They even have a gyro-stabilised  billiards table on the ship, something whipped up by researchers at NTNU. A few things differs between this place and The World, such as this one has been standing uninhabited for 18 months, and that it's not a tax haven.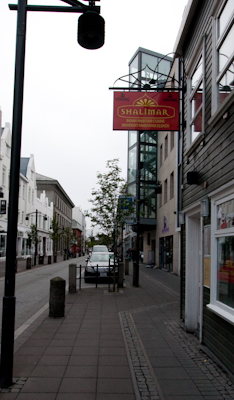 Needing food as usual, I walked around for something, passing Kebabhúsið, to Shalimar (There's a Shalimar in Oslo as well, not really a cheap Take-away like this one, but possibly one of the best Pakistani restaurants in Oslo. To get there, take bus 31 eastwards (towards Grorud or Tonsenhagen) or tram 17 (but not now, road works) and hop off at Rosenhoff and walk down Konghellegata until you find them on your left hand side. The food is brilliant, especially the Tandoori sauce. They don't know shit about alcohol, so you'd better have a lassi (they don't have Bhang). Don't order Madras here unless you know what you're doing!). There can't be many places above 100 000 inhabitants on earth without a Shalimar, a Taj Mahal and a Dubliner or two. Nevertheless, Shalimar was closed and I didn't want pizza or kebab so, with a complete lack of creativity, I dived into Prikið and got an omelette that was quite good. Now, one last walk around town trying to photograph what I have missed. I need to try to find more abandoned buildings and perhaps some more people with whom to talk.