Reykjavík, day ten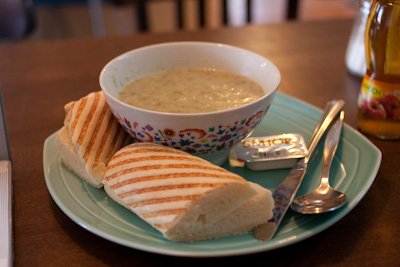 Time flies when having fun. Today's another day in the life, and I'm still in Reykjavík. As Jón pointed out with a comment on yesterday's blogpost, there was an unofficial meeting of local amateur photographers from  http://www.ljosmyndakeppni.is/ here at Babalú (broccoli soup today). It was perhaps 7-8 people and talk went on, as usual, lots about equipment, but also something about actual photography. That is, my Icelandic is far worse than I would have believed, so I can't be sure about what was said. I did take levels one and two of Icelandic at Folkeuniversitetet i Oslo, and the teacher, Erna Matthiasdóttir, was very eager so the two hours each Wednesday usually became three, so I have certainly learned some, but to listen to a group of people chattering isn't really easy. One of them had lived in Bergen for some years and wanted to exercise his Norwegian. Sorry guys and girls, I don't remember your names. When meeting a bunch of people at once, remembering all their names is hard at the best of times and when their names are in a tongue I hardly know, it's close to impossible.
Incidentally, as Tor Åge Bringsværd pointed out in his book Samtaler med en svart hund (ISBN: 82-05-31127-7), the word amateur descends from the Latin word Amare, to love. In his book, Bringsværd insists that he still is an amateur, and will (hopefully) remain one since he writes for the love of writing, not for any eventual money. I cannot but agree (actually, at the age of 16 or so, I printed my first business cards and entitled myself "Amatørfotograf", amateur photographer).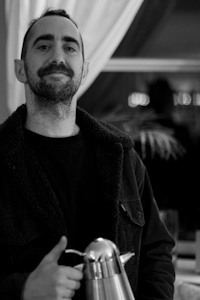 As some of you may have noticed I use different naming schemes for Icelanders and others. As I mentioned Jón Ragnarsson, a person I've never met, by his first name, I still write about Bringsværd with his family name. The reason is Jón, like most (but not all) Icelanders doesn't have a family name. Iceland still keeps up the tradition of naming their children after their father's name (or sometimes their mother's name in case the father is unknown or if the mother or child(ren) have chosen to break contact), a patronymic or matronymic. If I were to address him by his father's name, like most or all of international media is doing, that would be a serious insult. This also means people don't really change name when they get married. And, yes, their phone catalog is sorted by their first name.
New gallery for today, this one in black and white, because I felt like it (or perhaps because the pictures were taken inside and I don't like that tungsten colours, it gets dull whatever I do, so it's better this way). Oh, by the way, the service here at Babalú is great. Glenn (left) walks around refilling coffee (and cream) and and keeps the place cozy. So, if in town, don't just stay in Laugavegur, this is just two minutes walk up Skólavórðstigur (up towards Hallgrímskirkju).